Snow Rescue Sleds
We manufacture and deliver two types of snow rescue sleds:
Trailander Shuttle Rescue for emergency medical services (EMS) and patient evacuation
Trailander Rescue Xpress for paramedic response kit (PRK) transportation
Trailander Shuttle Rescue
Designed to be used as a rescue unit, the Trailander Shuttle Rescue is a fully covered and heated ambulance sled. It is used by several rescue services in Finland and northern Scandinavia.
Trailander Shuttle Rescue ambulance sled has proved to be a tough and reliable rescue tool from the rough and snow-covered wilderness to the ski-resorts around the northern Europe. Patient safety and paramedic working environment have been in the core of our development processes right from the beginning. With that in mind, we have developed a clever suspension and chassis solution that is easily the best of its kind within modern sled products. As a result, the sled slides lightly and softly through basically any kind of winter terrain with a constant high level of comfort inside.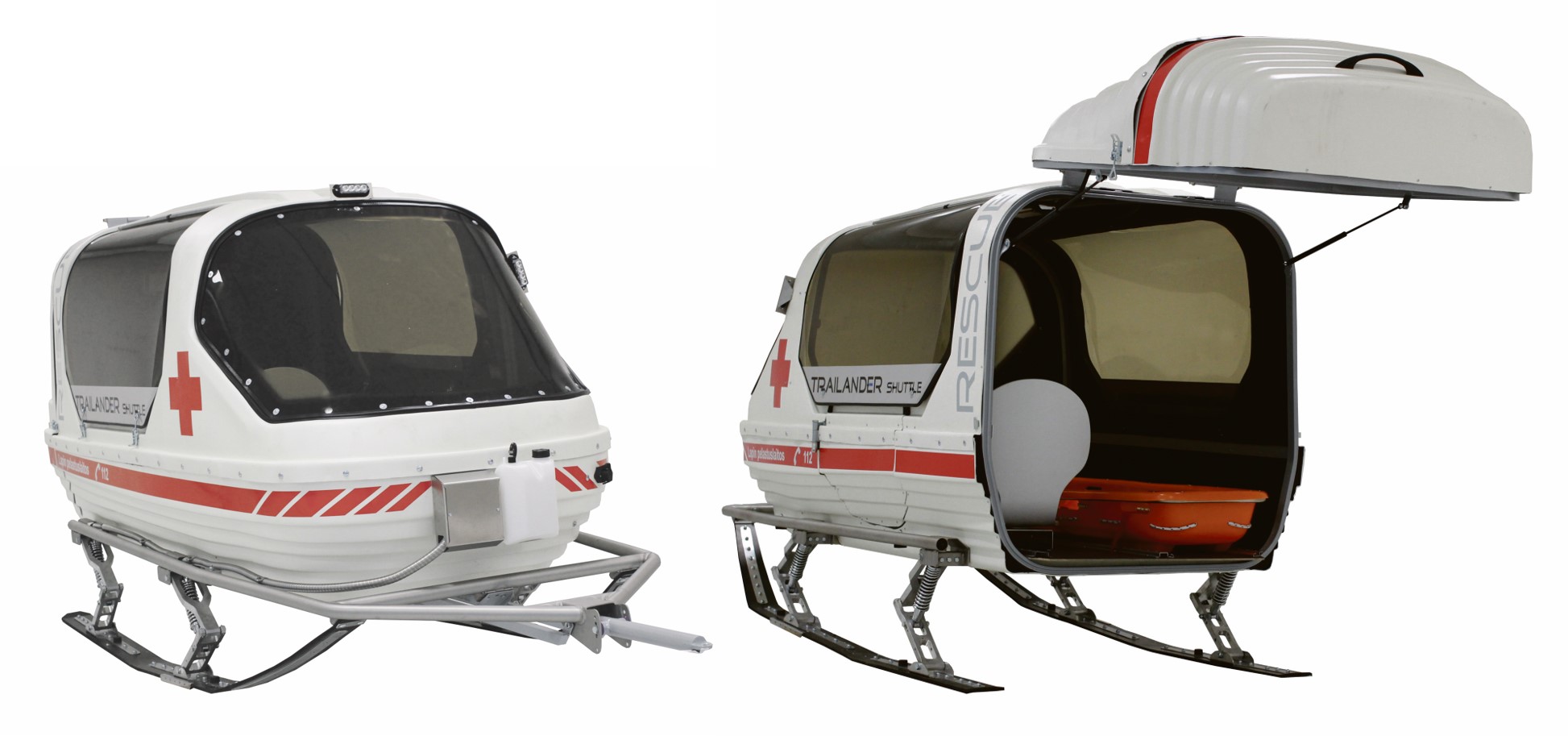 Webasto comes as a standard, keeping the inside warm. Rear door opens fully either sideways or up, depending on customers choice.
Check out the video on our YouTube channel:
Our rescue sled is delivered with a diesel webasto heater as a standard, thus keeping the sled warm in cold weather conditions. A stretcher with an attachement system and a medic chair are normally added to the delivery. Other equipment is tailored upon the type of use and need. Staff bags and tools fit in easily.
Standard delivery includes: suspended chassis, webasto (diesel), 12V battery, inner lightning, rear light/brake light, snowmobile connection cable and plug for external electricity, side door and fully opening rear door.
Trailander Rescue Xpress
Trailander Rescue Xpress is a new sled product designed for paramedic response kit transportation. It can also be equipped with a spinal board or vacuum mattress. Cargo box keeps the tools organized and safe. Trailander Rescue Xpress is very light and easy to tow. It is a perfect sled product to be used by ski-resort rescue services. It can be delivered according to our valid layout colors and texts or it can be customized to meet the customer requirements. We can also equip the sled with any paramedic tool requested by the customer (excl. supplies requiring an acquisition permit).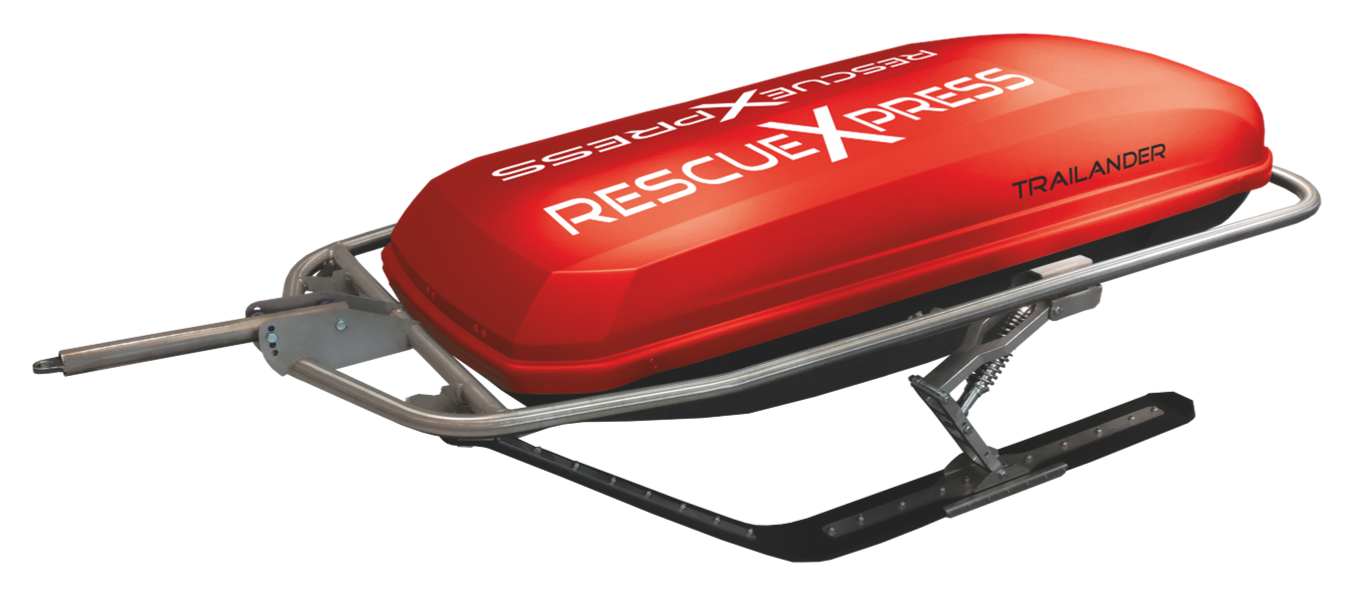 Trailander Rescue Xpress is technically the same sled product as the S-model designed for general outdoors purposes. Rescue Xpress can be equipped and delivered according to customer needs.
Check out the video on our YouTube channel:
Technical data:
Empty weight: 50 kg
Max. load: 100 kg
Capacity: 420 L
Cargo box inside: 187 x 73 x 40 cm*
Sled outside: 258 x 102 x 70 cm
Opening: right
* Spinal board fitting depends on the size, shape and model. Please check the suitability of your spinal board from us.
Ask us for a quote for your desired specifications.