Transportation sleds
Different transportation needs require special sled designs. Our range of sled products will get you covered - from light and handy leisure sleds to heavy-duty professional sled models. With our experience in the business, we know what it takes to make a good sled product.
We have four types of sleds for transportation purposes:
Trailander S is a cargo and touring sled designed for everyday leisure and professional use
Trailander All-Purpose is a compact, all-purpose sled, suitable for ice fishing, freight transport and even for transportation of light timber
Trailander Cargo is a heavy duty transportation sled for professional use
Trailander Log is specially designed for professional logging
Trailander S - Discover a new perspective in snow
It carries your gear. Covered from weather. Everywhere you need to go. Trailander S is a new cargo and touring sled designed for everyday leisure and professional use. It is the perfect partner for you, ranging from short trips to longer safaris offering a number of unique features. The spacious cargo box covers your gear and equipment, keeping them dry and safe from harsh weather conditions. Skis won't get tangled, even on narrow tracks. Suspension enables the sled to slide smoothly and gently through most terrains.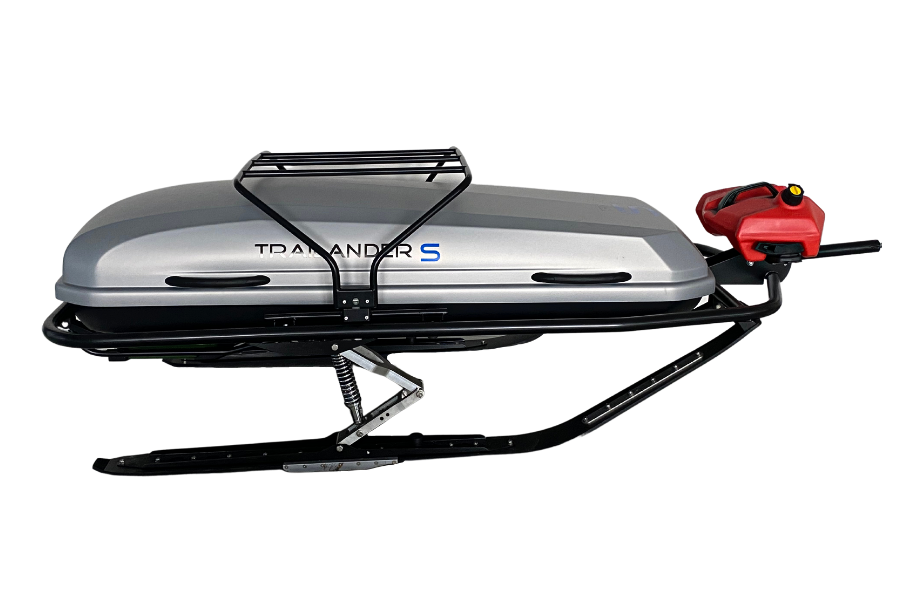 Trailander S is an elegant, modern cargo and touring sled for snow transportation purposes, suitable for every snowmobiler one can find. We say it is such a pleasure to operate that it becomes a privilege. In its class, Trailander S is the best sled product on the market.
Check out our YouTube Channel for Trailander S videos:
Trailander S - technical information:
Empty weight: 50 kg (110 lbs)
Maximum load: 100 kg (220 lbs)
Capacity: 420 L (110 US gal)
Cargo box dimensions inside: 187 x 73 x 40 cm (73 5/8 x 28 47/64 x 15 3/4 in)
Frame dimensions outside: 258 x 102 x 70 cm (101 37/64 x 40 5/32 x 27 9/16 in)
Opening: right, sideways
All-Purpose sled, Cargo sled and Log sled
Three cargo sled models for different types of transportation needs. The sleds share the same charasteristics:
Firm and durable
Widely used
Satisfied customers
The All-Purpose sled takes care of your everyday duties at home. It is a handy aid in smaller transportation needs and, for example, on ice-fishing trips. The All-Purpose sled suits also well for carrying light timber and firewood loads.
The Cargo is a sturdy sled for professionals. It takes care of the biggest and heaviest transportation duties.
The Log is the best sled solutions for the biggest timber loads.
Check out our YouTube Channel for videos:
The Trailander All-Purpose sled

The Trailander Cargo sled

The Trailander Log sled