Snow Rescue Sleds
Trailander Shuttle Rescue
Trailander Shuttle Rescue is a specially designed product, developed for the needs of winter rescue. Its unique patented suspension combined with wide plastic skis give a very smooth ride even in rough winter conditions.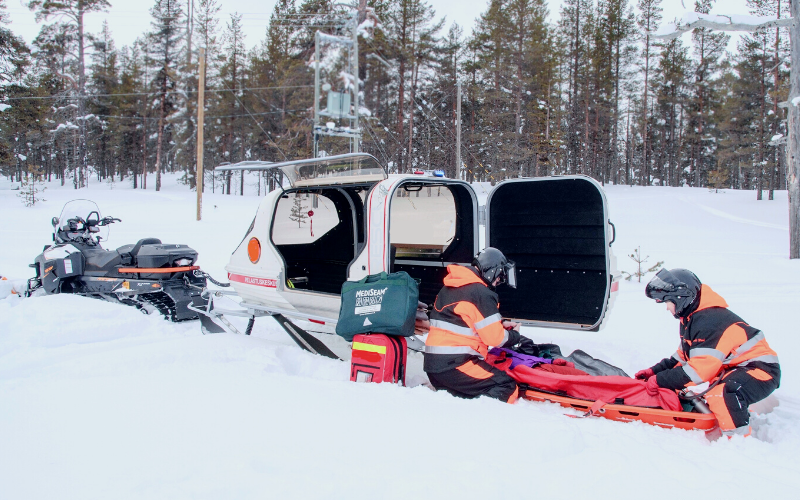 Trailander Shuttle Rescue for emergency medical services (EMS) and patient evacuation. Photo: Pirjo Latva-Mantila
Trailander Shuttle Rescue ambulance sled has proven to be a tough and reliable tool from the rough and snow-covered wilderness to the groomed routes of ski-resorts. Patient safety and paramedic working environment have been in the core of our development processes right from the beginning. With that in mind, we have developed a clever suspension and chassis solution that is easily the best of its kind within modern sled products. As a result, the sled slides lightly and softle trough basically any kind of winter terrain with a constant high level of comfort inside.
Our rescue sled has a very long history from the turn of the millennium to the present day. There are already over hundred rescue units for users of different versions, including Eurokammi ambulances. In addition to the Nordic countries, our Shuttle Rescue sleds are in use in Estonia, Russia, France, Italy, Germany, Antarctica and Greenland.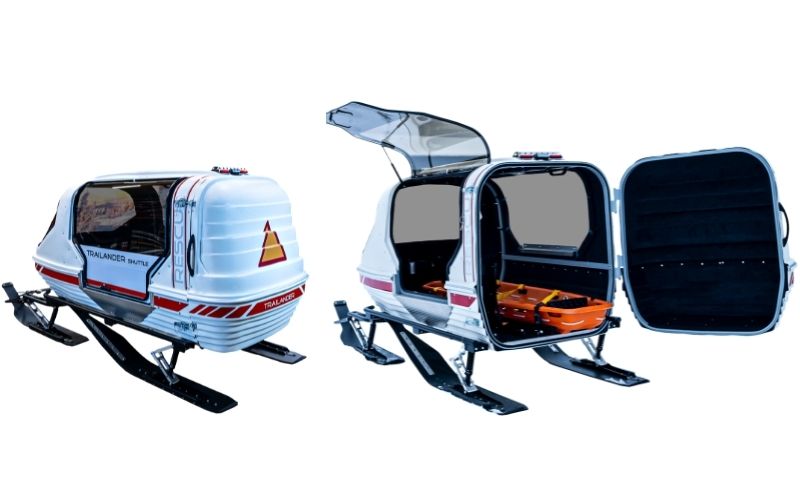 Webasto comes as a standard, keeping the inside warm. Rear door opens fully sideways.
The rescue sled has modern electrics, which gives the possibility of charging mobile phones and other devices, and also connections to medical devices. The interior lighting is implemented with low-power LED technology.
Check out the video on our YouTube channel:
Our rescue sled is delivered with a diesel webasto heater as a standard, thus keeping the sled warm in cold weather conditions. A stretcher with an attachement system and a medic chair are normally added to the delivery. Other equipment is tailored upon the type of use and need. Staff bags and tools fit in easily.
Standard delivery includes: suspended chassis, webasto (diesel), 12V battery, inner lightning, rear light/brake light, snowmobile connection cable and plug for external electricity, side door and fully opening rear door.
Ask us for a quote for your desired specifications.